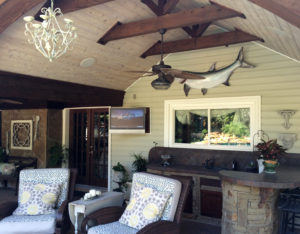 Wood Crafters is a custom backyard construction company that specializes in design, construction, and servicing the Houston Metro area since 1981. From its conception the focus has been on customer service, attention to detail, and designing and building a quality product for an affordable price. Over the years we have transitioned from building custom cabinets, furniture, and wood working to decks, patios, gazebos, patio covers, outdoor kitchens and more.
The company was established by native Houstonian Bill Bunch. As his reputation for detail and craftsmanship grew, so too did his customers' need for other construction services. Wood Crafters was soon being sought after for remodeling, room additions, home improvements, and many other outdoor enhancements. We have been fortunate to include among our many customers famous Houston athletes from the Houston Oilers, Houston Texans, Houston Astros and even the last astronaut to walk on The Moon. Our typical client however is someone that's a proud homeowner, recognizes value and attention to detail, and yet wants something original, unique, affordable and that looks built with their home.
Unfortunately, on February 1, 2016 the owner Bill Bunch passed away and once again Wood Crafters found itself in a new transition and journey. Scott Ward, a longtime employee of 20 years had to take the reins and continue the tradition of providing quality service to our customers. A long time Subcontractor, Felix Rangel with "Rangel Construction Services" took on the DBA of Wood Crafters and brought Scott, our carpenters, and expertise under his leadership to keep the company moving forward.
Wood Crafters values all our clients and recognizes the need to offer all our customers affordable value and that's why most of our business is still word of mouth, referral, and repeat business. We have an exceptional design team and provide detailed AutoCAD drawings for all our customers and take care of any compliance with neighborhood home owner associations, permit offices, and engineering needs if applicable.
We maintain an excellent reputation with local permit offices, carry necessary insurance, and bonding as required as well as an outstanding rating with the BBB. What can we design and build for you? Wood Crafters would like to take this opportunity to thank our valued clients who have made the last 30 plus years a success. Their trust, confidence, repeat business, and referrals are the foundation of our success since 1981 and without whom this would not have been possible.